News and Events Archive
News Archive
2020
Northwestern Core Manager Receives 2021 CZI Imaging Scientists Award
December 2, 2020
Emily Alex Waters, PhD, Manager for Magnetic Resonance Imaging (MRI) at Northwestern University's Center for Advanced Molecular Imaging (CAMI), a Chemistry of Life Processes Institute-affiliated facility, was awarded a Chan Zuckerberg Initiative (CZI) Imaging Scientists grant.  The award provides three years of funding for salary and professional development and can be renewed for two more years.
---
2020 Core Facilities Service Excellence Awards
August 18, 2020
Core Facilities Administration is pleased to announce the Office for Research's 11th annual Core Facilities Service Excellence Awards. The selection of award recipients was based upon information provided in 2020 annual reports as well as other considerations pertaining to the operation of facilities during the past year.  In recognition of their achievement, each awarded core will receive a commemorative plaque and acknowledgment on the CFA website.  Details on the annual reporting process and scoring criteria can be found here.  Awardees typically score as Outstanding or Excellent in at least five of the eight categories that Core Facilities Administration uses to evaluate cores.
2020 Awardees
| | |
| --- | --- |
| Analytical bioNanoTechnology Equipment Core | Northwestern Proteomics Center of Excellence Core Facility |
| Biological Imaging Facility | NU Laser and Electronics Design Core |
| Biostatistics Collaboration Center | NUANCE |
| Center for Advanced Microscopy/Nikon Imaging Center | NUSeq |
| Center for Advanced Molecular Imaging | Peptide Synthesis Core |
| Center for Translational Imaging - Cardiovascular | Pulsed Laser Deposition Facility |
| Center for Translational Imaging - Neuro | Quantitative Bio-element Imaging Center |
| ChemCore | Reactor Engineering and Catalyst Testing Core |
| CTC Microsurgery Core | Recombinant Protein Production Core |
| DND-CAT | RHLCCC - Flow Cytometry Core |
| High Throughput Analysis Lab | RHLCCC Pathology Core |
| Integrated Molecular Structure Education and Research Center | SBDRC |
| Keck Biophysics Facility | |
Congratulations to all of the winners with special congratulations to NU-LED, Pulsed Laser Deposition, and rPPC as first time award recipients.
---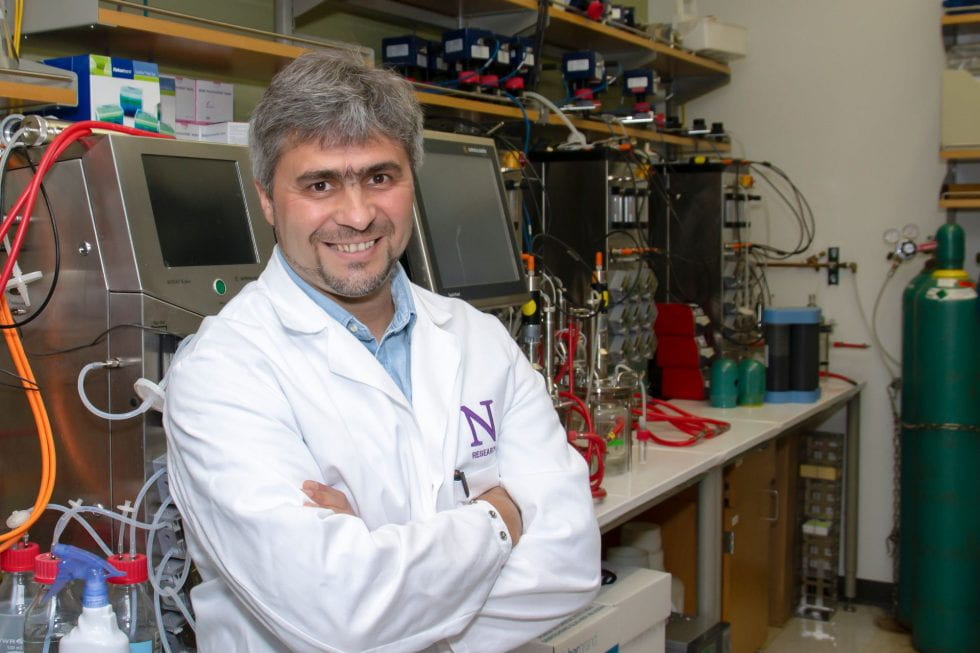 The Protein Whisperer

July 14, 2020
As research laboratories on campuses across the US slowed down in March in response to stay-at-home orders, Northwestern's Recombinant Protein Production Core (rPPC), a Chemistry of Life Processes Institute-affiliated core facility, was running at full speed.
---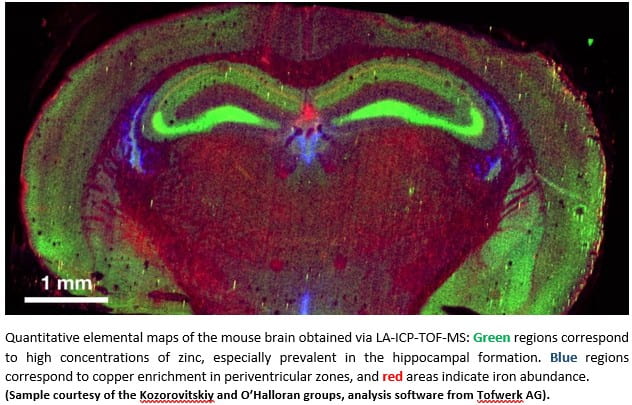 Northwestern, Argonne, and Leading Research Universities to Launch National Resource to Unlock the Role of Metals in Human Health
June 29, 2020
---
CFaD Program Helps Cores Innovate
January 30, 2020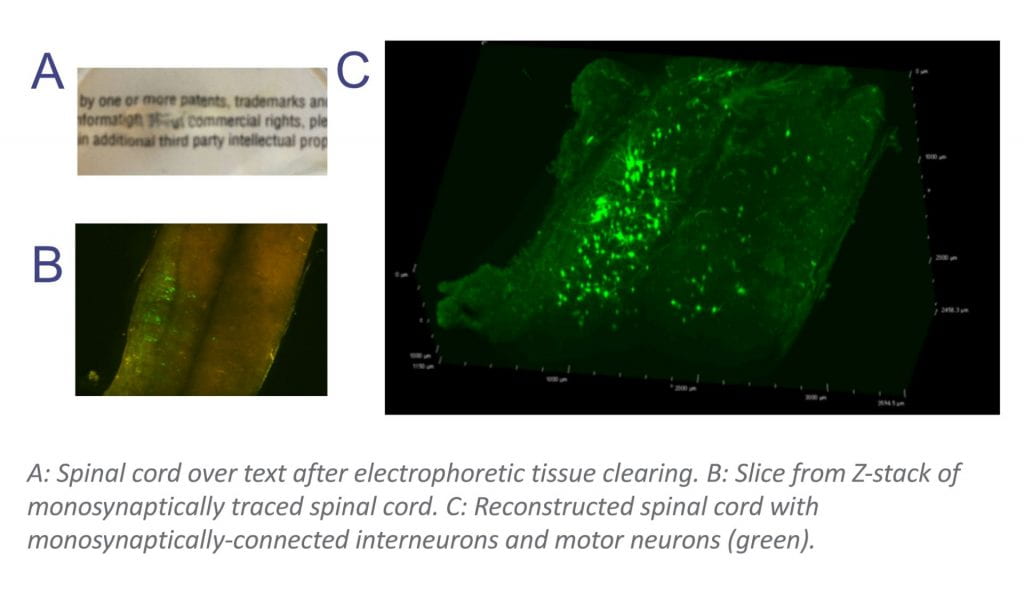 The Core Facilities Administration created the Core Facilities Development Grant Program (CFaD) to bridge this gap — and has already helped jumpstart efforts to enhance some Cores.
For example, the Center for Advanced Microscopy (CAM) and Mouse Histology and Pathology Laboratory (MHPL) used this program to develop new service lines to prepare thicker, sectioned tissue for analysis by light sheet microscopy through a process called clearing, where materials that scatter light are selectively removed. The Kalb group used this process to to compare the spatial distribution of premotor interneurons of the spinal cord between a mouse model of spinal muscular atrophy SMNΔ7 and wildtype littermates as part of a recent proposal.
According to Constadina Arvanitis, CAM facility manager: "This technology is very dependent on the core-to-core workflow between the MHPL and CAM. With this development grant, in addition to investigators being introduced to the technology, CAM and the MHPL could better develop the workflow of incoming clearing projects. This core-to-core interaction has by far increased the support we give to PI labs."
The data generated under the program has led to more than 10 single investigator grants and is increasing utilization and sustainability for Office for Research cores. Learn more about CFaD here, or contact a member of the Core Facilities team.
---
2019
Welcome Ben Owen, new Director of the Integrated Molecular Structure Education and Research Center (IMSERC)
October 31, 2019
Please welcome the next IMSERC Director, Research Associate Professor, Ben Owen, Ph.D. Ben will succeed Andy Ott in this role as Andy completes his transition to the full time Director of Core Facilities Administration which will occur in April, 2020. Prior to joining Northwestern, Ben worked for Agilent Technologies as a Product Specialist for Mass Spectrometry (MS) in the Chicago metro area and, before that, as a Field Applications Scientist for MS in the Boston metro area. Ben earned his Ph.D. in Analytical Chemistry from Purdue Universtiy in Professor Hilla Kenttämaa's research group where he focused on mass spectrometry instrumentation and method development for the analysis of lignocellulosic biomass metabolism and degradation for biofuel production. Welcome Ben!
---
Core Facility Fall Equipment Proposals due 10/15/19
October 7, 2019
Please submit your proposals via NITRO, Link
Proposal components are listed here.
Submissions are accepted through 11:59 PM on 10/15/19.
---
CAMI Pilot Project Funding for Imaging Studies
Jul 16, 2019
Release date: 7/15/19
Proposal Deadline: 8/5/19
Northwestern University's Center for Advanced Molecular Imaging (CAMI) is offering pilot project funding for up to TEN projects/year during each of the next three years to researchers with nascent imaging projects that will benefit from CAMI expertise in imaging method development and refinement.
Selected projects will be funded for a period of one year and up to $5,000 (and in very special circumstances, up to $7,500) direct costs for imaging studies performed in CAMI.
CAMI offers researchers a wide range of imaging instrumentation, knowledgeable staff, and support facilities uniquely configured to make preclinical research efficient and productive. CAMI has its own vivarium and support space for cell culture and radiochemistry. The CAMI website provides a detailed description of instruments, services, and support facilities for in vitro and in vivo studies.
Please see the below flyer for more details.
CAMI_Pilot_RFP2019
---
Cross-Disciplinary Research Shines at CLP Institute's 'Biotech Summit'
Apr 17, 2019
---
A Billion-Piece Puzzle
Apr 17, 2019
---
Core Facilities Administration at ABRF
Apr 12, 2019
2018
Shared Facilities Recognized for Role in Breakthrough Science
Dec 19, 2018
With support from Northwestern's Peptide Synthesis Core — and with nature as a guide — a multidisciplinary research team led by Samuel Stupp recently developed a novel material with the ability to reversibly change properties.
"The Core played an important role in this major research publication," says Mark Karver, director of the Peptide Synthesis Core Facility housed at the Simpson Querrey Institute (SQI). The manuscript was published October 4 in Science with Stupp, SQI's director and the Board of Trustees Professor of Materials Science, Chemistry, Medicine and Biomedical Engineering, and Erik Luijten, chair of Materials Science and Engineering, as corresponding authors.
---
Pilot Grant Program for Single Cell Sequencing
Dec 13, 2018
The NUSeq Core Facility is offering a unique opportunity to support innovative pilot research projects using 10X Genomics Single Cell Chromium Controller.
Description:
We are pleased to announce a pilot grant program in collaboration with 10X Genomics to provide library preparation for Single Cell 3′ Gene Expression or 5′ Gene Expression and Immune Profiling.
The support covers library preparation for up to two samples, and data analysis at one hour bioinformatics time per sample. The program aims to support up to four pilot projects from Northwestern University. Illumina sequencing, staff hours spent in sample process, and additional bioinformatics time are separate and not covered by this program.
Objective:
The goal of this program is to support Northwestern University researchers as they seek to generate preliminary data in support of upcoming grant applications, and to promote the utilization of cutting-edge solutions from 10X Genomics for genomic and translational research.
Eligibility:
Applicants must hold a faculty position (including Research) at Northwestern University and must be planning to submit a grant application to support a broader research aim for which they need preliminary data.
Applicants may not hold current awards directly related to the proposed research.
Early career investigators are strongly encouraged to apply.
---
New FASEB Shared Resources Report Provides Path Forward for Improvement
Oct 25, 2018
Shared research resources – from core facilities to living collections and national laboratories – make efficient use of funds and broaden researchers' access to advanced technologies and materials. But shared resource providers face challenges that limit their ability to offer cutting-edge services. Through a survey of resource users and providers, FASEB identified four key areas for improvement. In a new report, FASEB details these findings and offers recommendations.
---
Equipment Grant Deadline is 10/15/18
Oct 4, 2018
Please note the deadline for the Fall 2018 Core Facilities Equipment Funding: 10/15/18 at midnight.
To submit your proposal:
Review the updated submission guidelines

Note: the 2-page limit for proposal body will be strictly enforced this cycle (one page for instrument description and one page for budget justification)
New budget template must be included for Equipment Grants in Appendix (see attachment below)
ReLODE template must be included with ReLODE applications (see attachment below)

Log in to upload your proposal here, https://grants.nubic.northwestern.edu/competitions/VPOR/fall2018cf
If you have any questions, please contact Andy Ott, a-ott@northwestern.edu
Events Archive
2019
Core Facilities Colloquium – 10/31/19
November 1, 2019
This year's CF Colloquium highlighted the topic of Inclusivity in Core Facilities.  Sue Weintraub, Professor of Biochemistry & Structural Biology at UT Health-San Antonio, presented her experience as a long-standing Director of a Mass Spectrometry Core Facility in a keynote address.
Student groups (Women in Science and Engineering Research and NU Building on Diversity) encouraged the core facilities community to consider an open minded perspective.
Celina Flowers, Assistant Provost for Faculty, expanded on methods, techniques and mindsets to promote inclusive hiring. Twenty four Core Facilities were awarded Service Excellence Awards.
We hope to see everyone next year!
---
Core Facilities Colloquium – 10/31/19
October 7, 2019
Please join us on the Chicago Campus (Wieboldt Hall, 5th Floor – Conley Lounge) to celebrate cores and engage in our theme this year, Inclusivity in Core Facilities. A light breakfast and lunch will be provided. A detailed agenda is coming soon.
---
NUCAPT Atom-Probe Tomography Workshop, Oct 22-23, 2019
October 3, 2019
Northwestern University's Center for Atom-Probe Tomography (NUCAPT) cordially invites you to the 2019 NUCAPT Workshop onAtom-Probe Tomography: New Developments & Training on October 22-23, 2019, at Northwestern University in Evanston, Illinois, USA.
The first day of the APT workshop, Tue Oct. 22nd, will provide hands-on tutorials on APT data analysis using CAMECA's IVAS® 3.8 software. The second day, Wed Oct 23rd, will include presentations on the most recent developments in APT, inluding CAMECA's new AP Suite™ 6 software, correlative TKD/EBSD and STEM imaging techniques, as well as APT applications to biomaterials, advanced alloys, ceramics and semiconductors, and other special topics presented by experts in the field.
The APT workshop will have four individual sessions (times and room TBA) that can be registered for separately at https://tinyurl.com/yy85pfsj:
    Tue Oct. 22nd AM:  IVAS 3.8 Training Module 1 (Reconstruction) & Module 2 (Visualization and Analysis Basics)
    Tue Oct. 22nd PM:  IVAS 3.8 Training Module 3 (Advanced Analysis of APT Data)
    Wed Oct 23rd AM:  New Developments in APT Software, APT Correlative Methods, and APT Technology
    Wed Oct 23rd PM:  Applications of APT in Materials Analysis and Special Topics
Please register by October 15, 2019 for all or any of the sessions through our Registration Link at https://tinyurl.com/yy85pfsj
All those interested in learning more about APT are encouraged to attend.   The workshop registration is free, but active participation in the IVAS 3.8 training modules is limited to 25 people. The final detailed program will be circulated to all registered participants ahead of the workshop. Updated information and the registration link are available at http://nucapt.northwestern.edu/.
Thank you for forwarding to others who may be interested in attending the APT workshop, please also peruse and distribute the attached one-page flyer. Please let us know if we can help with any questions, and we look forward to your participation!
See you at the workshop and with best regards,
Dieter Isheim, Chantal Sudbrack, David Seidman (Workshop Organizers)
P.S.: If you are new to APT, Atom-probe tomography (APT) is an atomic-resolution three-dimensional (3D) chemical imaging technique for nanoscale materials analysis. Examples of nanomaterials and nano-structured materials analyzed by APT will be discussed at the workshop.
---
CLP Hosts Pre-Clinical Imaging Conference
May 15, 2019
Core facility experts, researchers gather to exchange best practices in preclinical imaging
From preclinical imaging best practices and career opportunities for facility managers, to core research and commercialization, the 2019 Pre-clinical Imaging Consortium (PIC) Annual Meeting held at Northwestern University, April 28-30, covered a lot of territory.  More than 150 core facility experts, faculty and researchers from across the US attended the conference, hosted by Chemistry of Life Processes Institute's Center for Advanced Molecular Imaging (CAMI) and sponsored by over twenty companies in partnership with the World Molecular Imaging Society.
Faculty and experts from Northwestern and several other academic institutions presented exciting new imaging facility research. The program also included ample time for networking, roundtables, power pitches by industry vendors and poster sessions led by scientists and facility managers from participating universities. The gala dinner was sponsored by Bruker BioSpin and the Robert H. Lurie Comprehensive Cancer Center.
"The mission of the PIC," said the consortium's co-founder Chad Haney, PhD, managing director, CAMI, "is to create a meeting place where knowledge of operating preclinical imaging facilities is shared openly."
Advancing cutting-edge research
The fifth annual meeting kicked off with a talk by Heather Gray-Edwards, Assistant Professor, University of Massachusetts Medical School who is developing a new gene therapy to correct the enzyme deficiency found in people with Tay-Sachs and Sandhoff disease. Lysosomal storage diseases (there are more than 40 altogether) are often fatal pediatric diseases. A specific protein deficiency that breaks down waste products within the cell is the cause.  For several of these diseases, gene therapy clinical trials are ongoing, or about to start, but a way to track therapeutic efficacy is lacking.
Together with the research lab of Thomas Meade, PhD, faculty director of the Chemistry of Life Processes Institute's Center for Advanced Molecular Imaging, she developed a series of MRI-based contrast agents that non-invasively track the delivery of a therapeutic protein and its activation for the therapeutic effect. Using high field strength MR imaging (7 Tesla) they developed an entirely new way of non-invasively demonstrating that the gene of interest was active. The novel approach enables Gray-Edwards and collaborators from UMMS and Auburn University in Alabama to immediately assess the efficacy of gene therapy treatments.
Martha Vitaterna, PhD, research professor and deputy director of Northwestern's Center for Sleep and Circadian Biology, provided an overview of a landmark study that she and fellow collaborator Fred Turek, PhD, Charles & Emma Morrison Professor, conducted in partnership with NASA's Human Research Program.  The goal of the research was to determine the effect of space flight on gut microbiota, the thousands of species of bacteria that live inside the stomach and intestines. The yearling investigation tested the gut bacteria of astronaut Scott Kelly during a space mission against his identical twin brother, retired astronaut Mark Kelly who served as the experiment's baseline.  The study found that two major categories of bacteria in Scott Kelly's gut microbiome had shifted during spaceflight, but the diversity of bacteria in his microbiome remained unchanged.  Northwestern's CAMI facility was instrumental in producing the whole body fat measurements for the experiment. This was one of several studies by the team examining how spaceflight affects the human body, including changes in gene expression, bone density, immune system responses and telomere dynamics.
Career Paths for Facility Managers
A leading advocate for the professionalization of cores as a scientific field Philip Hockberger, PhD, associate vice president for research at Northwestern, discussed his efforts to create a new professional path for those looking to make a difference in managing core facilities.
According to Hockberger, the U.S. government invests approximately $30 billion per year in research (core) facilities.
"Maximizing that investment requires development of a professional workforce to operate and manage those facilities effectively," said Hockenberger in a statement.  "Effective management requires multiple skill sets including technical, writing, business and management skills. Northwestern's Kellogg School of Management offers a five-day executive education course specifically for managers and administrators overseeing core facilities."
At Northwestern, professional development of staff working in core facilities includes membership in regional and national organizations, presentations at conferences and colloquia, advanced technical training, and participation in mentorship programs, said Hockberger. Northwestern also has core-specific job families for staff working in core facilities as well as publication guidelines for users of core facilities.
Commercializing Core Discoveries
The program wrapped up with a no-holds-barred primer on commercialization given by veteran entrepreneur Thomas Meade, PhD, the Eileen M. Foell Professor of Cancer Research and Professor of Chemistry, Molecular Biosciences, Neurobiology, Biomedical Engineering, and Radiology. Meade cautioned attendees to consider the risks before diving in because the odds of a biotech startup actually making it to an exit strategy is low— about 1 in 103, he says.
"Don't do it. It's a black hole," joked Meade. "It's deeper than you're ever going to see in. And once you're in, you're never going to get out."
He also refuted some common misconceptions, such as believing the process will make academics rich, or an assumption that scientists understand business and marketing. Typically, the process doesn't make people wealthy. He also strongly encouraged would-be entrepreneurs to listen to the experts and seek outside counsel from business people. Meade talked from experience having started five companies based on translational discoveries he made in the lab.
Some of his breakthroughs, such as an electronic DNA biosensor that instantly detects the presence of diseases like cystic fibrosis and also has broad applications for agriculture, succeeded brilliantly.  Others, including one startup he spent more than 6,000 hours over 10 years developing, are unlikely ever to reap any benefits. Nevertheless, he admitted to being bit by the entrepreneurial bug and notes that several of his post docs and graduate students have become very wealthy from the process.
2018
Stratocore's List of Events & Resources for Cores
Oct 29, 2018
Stratocore's Rand Haley has compiled a list of core facility management literature.
The page also contains a list of events and organizations for Core Facility professionals.
More information can be found here, https://www.stratocore.com/events-resources/
---
Leadership and Management in Core Facilities Course 2018
Oct 9, 2018
Another year – and a new cohort of participants have completed the annual Kellogg Executive Education Course!
Two travel awards were presented to participants from Canada and Australia.
The curriculum for the course focused on business management skills and deep insights into the nuances of leadership in a university setting. The four-day executive learning experience focused specifically on helping core facility professionals to enhance their business and management skills and develop the leadership capacity to run their operation more effectively.
More information and registration can be found here, https://www.kellogg.northwestern.edu/executive-education/individual-prog…
Congratulations to our group of participants on completing the course!
We now look forward to the Applied Learning Projects (ALP) conference in the spring of 2019. An ALP is a chance to apply knowledge from the course and address a real need within your core. Participants in the ALP conference share their projects with their colleagues and prizes are awarded to the top 3, as voted by peers. Can't wait to see and hear all of the ideas!
2017
Kellogg Leadership in Core Facilities Course 2017
Dec 1, 2017
This year's Kellogg Executive Education Course, Leadership and Management in Core Facilities, ran 11/13-11/16 in downtown Chicago. Participants included Directors, Managers, Program Administrators, and Financial Administrators of cores at Northwestern, University of Illinois at Chicago, John Hopkins University, U. of Nebraska-Lincoln, McGill, Fred Hutchinson Cancer Research Center, U. of Minnesota, and Montreal Neurological Institute and Hospital.
All 20 participants benefited from the expertise of professionals in the areas of Marketing, Leadership, Accounting, and Management & Organizations. Each year, the course seeks to enrich core facilities staff in cultivating a successful business model and the many facets of running a smooth and stable business.
See you next year!
---
Colloquium Celebrates Cores
Oct 27, 2017
The annual Core Facilities Colloquium and Awards Luncheon took place on September 26, 2017.
Keynote speaker Jennifer Waters, PhD, Director of the Nikon Imaging Center at Harvard Medical School, delivered a presentation stressing the importance of professional training.
The core facilities community heard from their colleagues about running seminars, workshops, high level outward-facing training, and supporting formal education.
Awardees of the Core Facility Awards were presented with plaques, monetary awards, and certificates.
Congratulations to all and see you next year!
---
2017 Core Facilities Colloquium and Awards Luncheon
Oct 20, 2017
Core Facilities were honored at the 2nd annual Core Facilities Colloquium and Awards Luncheon on 9/26/17 in the Guild Lounge.
Jennifer Waters, PhD, Director of Harvard University Medical School's Nikon Imaging Center, presented her experiences with training and education to the NU core facilities community.
This year's Outstanding Core Facilities, Gold Star Cores, and Honorable Mentions were invited to receive their awards in front of their peers.
Congratulations to everyone and we hope to see at next year's event!
---
Nikon Holds Inaugural Directors Meeting for Centers of Excellence and Nikon Imaging Centers
Aug 18, 2017
Nikon Instruments Inc. held its inaugural Nikon Center of Excellence and Nikon Imaging Center directors meeting on August 1-2, 2017. Hosted by the Center for Biologic Imaging, University of Pittsburgh, this is the first time the center directors have convened in-person with Nikon to discuss their current research and how to enhance collaboration.
Organized by Simon Watkins, Distinguished Professor and Vice Chair in the Department of Cell Biology and Director of the Center for Biologic Imaging (CBI), and sponsored by Nikon Instruments Inc., this meeting brought together directors of the elite Nikon Imaging Centers and Centers of Excellence (COEs).  Included among the attendees were Josh Rappoport, the Director of the Center for Advanced Microscopy (CAM) and Nikon Imaging Center (NIC) at Northwestern University, Jennifer Waters, Director of the Nikon Imaging Center at Harvard, and Mark Sanders, Director of the University Imaging Centers and Nikon Center of Excellence at the University of Minnesota. 
[Northwestern Note: Recently both Drs. Watkins and Sanders participated in the Northwestern University microscopy program review, and Dr. Waters will be the keynote speaker at the upcoming Northwestern University Core Facility Colloquium. Read the full article here.]
Nikon Imaging Centers and Centers of Excellence are collaborative microscopy centers that are dedicated to providing top academic and research institutions with pioneering imaging technologies and enhanced research capabilities. The centers seek to better scientific understanding while also giving these leaders a voice in future Nikon product development.
Throughout the event, directors from the individual centers gave presentations about cutting-edge research applications being carried out at their facilities. They also addressed their center's needs in terms of imaging technology, data management and support.
"This meeting was a big step forward for the Nikon Imaging Center and Center of Excellence network," said Stephen Ross, Ph.D., General Manager, Products and Marketing, Nikon Instruments. "Cutting-edge research is happening at each of these centers, and we are excited to help facilitate better collaboration between the centers and Nikon. We look forward to continuing to learn from them about their specific needs as we develop the next generation of imaging technology."
Those in attendance included:
Darcy S. Peterka, Columbia University
Gary Laevsky, Princeton University
Matt Kofron, Cincinnati Children's Hospital Medical Center
Randy Blakely, Florida Atlantic University
Ken Dawson-Scully, Florida Atlantic University
James A.J. Fitzpatrick, Washington University
Bryan A. Mills, Vanderbilt University School of Medicine
Joshua Rappoport, Northwestern University
Mark Sanders, University of Minnesota
Jose Lasalde, The University of Puerto Rico
Gustavo Menezes, Federal University of Minas Gerais
Jennifer Waters, Harvard Medical School
Anna Payne-Tobin Jost, Harvard Medical School
James Chambers, University of Massachusetts Amherst
Enfu Hui, UC San Diego
Kathy Spencer, The Scripps Research Institute
Simon C. Watkins, University of Pittsburgh
Claudette St. Croix, University of Pittsburgh
Nikon Instruments Inc. (President, VP for Sales, GM for Product & Marketing, GM for Service, GM for Software, Senior Management from Sales, Product & Marketing)
Nikon Corp. Members (Senior Management from Planning and Product Development)
---
2017 Core Facility Awards
Aug 11, 2017
Dear Directors, Managers and Business Administrators of Core Facilities:
We are delighted to announce the Office for Research's 8th annual core facility awards. Selection of award recipients was based upon information provided in 2017 annual reports as well as other considerations pertaining to the operation of facilities during the past year. All facilities will receive detailed feedback on the assessment process and their performance in the coming weeks.
 
All faculty and staff working in core facilities at Northwestern University are invited to the Core Facilities Colloquium and Awards Luncheon on September 27.
All awardees will be honored guests at the luncheon and acknowledged in OR's Fall Newsletter and on the core facilities website.
 
The Gold Star Award is bestowed on facilities that have placed in the top 10% four or more times. Each of these facilities will receive a commemorative plaque, and each full-time employee will receive $200. The 2017 Gold Star Awardees are:
 
Center for Advanced Microscopy and Nikon Imaging Center (CAM-NIC)
Integrated Molecular Structure Education and Research Center (IMSERC)
Northwestern University Atomic and Nanoscale Characterization Experimental Center (NUANCE)
 
The Outstanding Core Facility Award is bestowed on facilities that place in the top 10% (excluding Gold Star Awardees). Each facility will receive a commemorative plaque and a $2,000 voucher for discretionary use related to the operation of the facility (e.g., professional development, workshop, seminar program). The 2017 Outstanding Core Facility Awardees are:
 
High Throughput Analysis Laboratory (HTA)
Medicinal and Synthetic Chemistry Core (ChemCore)
RHLCC's Flow Cytometry Facility
 
The following are recognized as Honorable Mention for placing in the top 20%. The 2017 Honorable Mention facilities are:
 
Biostatistics Collaboration Center (BCC)
Center for Translational Imaging (CTI)
Simpson Querrey Institute's Peptide Synthesis Core
Skin Disease Research Center (SDRC) Core Facilities
 
Please join us in congratulating all of these facilities for their outstanding achievements!
---
Core Facilities @ the NU Community Picnic
Aug 1, 2017
Thanks to all Core Facilities staff, directors, and managers who joined Core Facilities Administration at the July 22 NU Community Picnic!
It was great to see familiar and new faces among the NU and Evanston community that came out for some fun in the sun.
Even though the lawn was squishy from the rain on the day before it didn't stop us from having a great time!
Hope to see you there next year!!
---
Kellogg Course – ALP Workshop Winners
May 19, 2017
This year's Kellogg Leadership and Management in Core Facilities course inspired 9 core facility staff members to apply what they learned in the course to an existing issue/need within their core facility.
This past week, the core staff presented their projects to their peers during the ALP (Applied Learning Project) Workshop in Hardin Hall. Post event, participants submitted their votes for their favorite presentations and the below winners have been awarded funds for the continued development of their projects.
Congratulations to all the participants and the below winners!
1st Place ($1000 award/voucher): ­ Jessica Hornick (BIF), Comprehensive instrument training program for incoming graduate students
2nd Place ($750 award/voucher): ­ Habibi Goudarzi (IMSERC), Cultural issues of IP and authorship
3rd Place ($500 award/voucher): ­ Ying Jia (NUFAB_Tech), Growing Commercial Usage at NUFAB
3rd Place ($500 award/voucher): ­ Dina Arvanitis (CAM), User Core Utilization Cluster Analysis
---